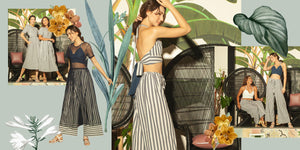 Una Ricci is a concept store unlike any other, the first of its kind in the Philippines. Our clothing pieces under Una Ricci Label can be customized based on clients' specific measurements as well as on preferred colors and fabrics, within 3 to 10 business days only. We proudly underscore slow fashion. 
Our growing menswear category features casual, comfortable, everyday fashion. Also, amidst the pandemic, we have been carrying Covid19-protective essentials, giving priority to our health and safety.
What's more, you will find items that are exclusively curated by us as we evolve and offer a brand new merchandise mix not only for your wardrobe but also for your home, your health, and your travels.
Our fashion pieces—our labor of love—that are proudly made in the Philippines are complemented by our product lines that are designed and made in various parts of Europe, the US, and Asia with our goal to share an extension of ourselves—our interests and preferences, what we find both useful and fascinating—and provide you with a distinctively satisfying, one-of-a-kind shopping experience. And of course, at the same time make your everyday lives and your loved ones' more beautiful and more interesting.
At Una Ricci, all our items are made (our clothing pieces), curated, and sold with love. 2021 was about revamping our store and introducing an all-new Una Ricci that's not limited to fashion, but an avenue for items that are classic, sophisticated, quirky, and playful—and offering a sense of exclusivity all under one roof. This 2022, whenever you visit us viritually or in our Una Ricci Store in Uptown Mall, or in Mitsukoshi Mall also located in BGC, and in our Una Ricci Atelier, there will truly always be an element of surprise.

Una Ricci, mitsukoshi mall
8th Avenue cor. 36th Street Grand Central Park, Taguig, Metro Manila
Tel. no.: +632 7116 613
unaricciph@gmail.com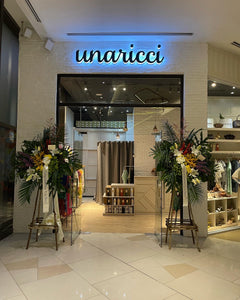 Una Ricci, uptown mall
G/F Uptown Mall, 11th Drive, Taguig, Metro Manila
Mobile no.: +63918 888 8318
unaricciph@gmail.com